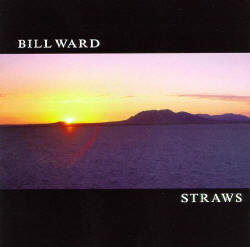 Bill Ward announced today, Sunday, October 27 2002 at 2:00 am PST/Daylight Savings Time that he will release about 2,000 commemorative CD packages, containing one song, "Straws." The artwork for "Straws" is near completion and roughly 1,000 CD packages will be delivered before December 1.
Since the release of "Straws" on the Internet, the work to release the CD packages has been underway. Each CD will be numbered, it's a limited edition, and the packages are not for sale. At least 1,000 copies will be sent first to Bill's family, friends, fellow musicians, producers, engineers, journalists and some radio stations. Further recipients include establishments for humanitarian causes, peace support groups and individuals, and finally governmental heads of state or countries across the world. Following is a quote from Ward, which will appear on the back of the CD package:
In our arrogance, we often feel the desire to beat on our own chests, in celebration of how far, as human beings, we've progressed.
However, let us not do that so quickly.
Not as long as continuing wars permeate, destroy and threaten the existence of life itself on our planet.
Instead can we stop briefly and see how utterly archaic we really can be.
Perhaps when the word "war" means nothing to any living souls anywhere.
A time when war has become a thing of the past.
Perhaps then we can give ourselves some polite applause.
For real human progress.
Aston Cross Music, Inc.©
A note from Bill Ward regarding "Straws":
I wrote "Straws" in September 2002 when I became most fearful of retaliatory response in the U.S.A. if war with Iraq became a reality. I hope this war does not trigger a terrorist response and allow the unimaginable to happen. "Straws" is about my unimaginable.
Peace to all men, women, and children.
Bill Ward
How to get Straws
Only 2,200 copies of the "Straws" CD-single have been produced, with the first 1,200 going to governmental heads of state throughout the world, humanitarian organizations, peace support groups, media outlets, musicians and actors. The remaining 1,000 are now available exclusively at billward.com. Each Limited Edition "Straws" CD-single is numbered and autographed by Bill, and all proceeds (after administrative costs) will be donated to charity.
Here is the donation scale:
Minimum Donation – $35
Suggested Donation – $50
You can also donate over $50 if you choose to be more generous.
Additionally, the special signed editions of Numbers #666 & #911 will go for $1,000. If you are interested in purchasing those copies, please drop us a line about them – these two are not available for order online, you must contact us regarding them.
All proceeds from your purchase of "Straws" will be donated to the charity of your choice from the list below. Our preferred method of payment for the donation is through Paypal. If you choose not to pay with Paypal, or cannot pay that way, you can follow the instructions at the bottom of the page for payment with check, money order, or cashier's check. When paying through Paypal, please use the Paypal link next to the charity and amount of your choice.
You can also read about the various charities by clicking on the links shown in each one.
If you like, you can download this mp3 of Bill Ward speaking on Rock 50 about the various Straws Charities. The song is not in this mp3; it's Bill talking.
---
Straws CD donations are currently offline indefinitely.
---
No Credit Card? No problem!
The links above will work if you want to pay with a credit card through Paypal. If you don't have those, or don't want to donate online, it's not a problem.  You can mail in your donation to us with your check, cashier's check, or money order (please do not send cash).   Also, if you send a check, it must be a check drawn on a US Bank or US Funds.  The reason for that is the cost involved in converting a foreign check is cost prohibitive.  Checks or funds not in US Dollars are likely to be returned to you.
All you need to do is to is to tell us which charity you wish to donate to, and where your CD should go to.Please write clearly! It might help if you print out your address instead of handwriting it. Please make sure to tell us which charity you wish your donation to go to when you mail in your donation. If you do not specify a charity when mailing in a donation, one will be chosen for you.
Checks should be made out to "Aston Cross Music, Inc.", and NOT the name of the charity you wish your donation to go to. Checks not made out to "Aston Cross Music, Inc" are likely to be returned.
You can mail your donation to:
Aston Cross Music, Inc.
263 Lincoln Blvd, Box #100
Santa Monica, CA 90405-4656
United States of America
If you have any questions regarding the "Straws" CD donations, please email us about it.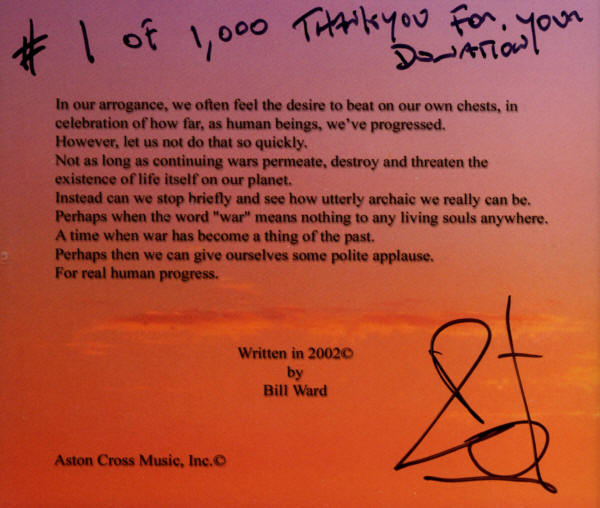 ---
Straws Credits
Bill Ward, Drums/vocals, keyboards and piano notes
Ronnie Ciago, Drums/percussion
Paul Ill, Bass/effects
Keith Lynch, Guitar/acoustic guitars
Produced by Barry Goldberg
Co-produced by Bill Ward
Protools, Kevin Keller
Recorded at Studio A, Rumbo Recorders, Van Nuys, CA
Mastered by Gavin Lurssen, Mastering Lab, Hollywood, CA
Straws Lyrics
Due to popular request, we present the lyrics for Straws direct from Bill's own lyrics sheet:
Aston Cross Music(c) Page 1
7/26/02
STRAWS
 VERSE1                I'm sorry to wake you from
                             Your sleep
                             Now baby open up your eyes

 VERSE2                We have to go downstairs
                             Find some shelter
                             Get some help
                             And stay alive

VERSE3                 How am I supposed to save you
                             In this chaos
                             Clinging,please don't die

 VERSE4                Where are the defenses
                             We were promised, oh I hope that they've arrived      

M8                         Bring it on, the misery, tonight
                             Come and tell the story here tonight 

HOOK 1                   We never ever have to even look
                                      no no
                                      no no
                                      no no

                             Turn away, we never have to look
                                      no no
                                      no no
                                      no no

                            Put your eyes on mine forever
                            This will be our last endeavor
                            Baby we won't ever have to look

 CHOROUS            Daddy's in the Army, Daddy's in the Army
                             And, Mommy's joining too
                             God help all the countries
                            They do know what they do    

HOOK2          We never ever have to even look
                                      no no
                                      no no
                                      no no 

                             Turn away, we never have to look
                                      no no
                                      no no
                                      no no

VERSE5                   Hell bound in the senses
                             Much too late to point and blame
                             When questioning why

VERSE6                   Let's pretend that we're dancing
                             As in yesterday, when it was stars that
                                      filled the sky
                             Yeah, sky

M8                         Bring it on, the misery, tonight
                             Come and tell the story here tonight

 HOOK3          We never ever have to even look
                                      no no
                                      no no
                                      no no         

                             Turn away, we never have to look
                                      no no
                                      no no
                                      no no

                             Put your eyes on mine forever
                             This will be our last endeavor
                             Baby we won't ever have to look