Posted on Mar.26, 1997 under Bill Ward
Bill's first ever live gig as a solo artist was on March 26, 1997 at Club 369 in Fullerton, California. Here is a review of the show as it appeared in the L.A. Times.
Friday, March 28, 1997
It Used to Be Black, but a New Dawn Is Rising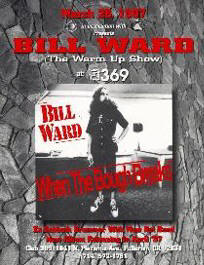 Pop music review: Sabbath old-timer Bill Ward goes solo, shedding light on the prevailing darkness of '90s arena rock.
By MIKE BOEHM, Times Staff Writer FULLERTON–What's more unusual nowadays than a rock show by a vintage figure from the '60s and '70s that carries an aura of uncertainty, risk and nervous expectation?
Bill Ward, who pounded the drums in Black Sabbath from 1968 to 1984, provided that rare opportunity Wednesday night at Club 369. It was Ward's first concert as a solo artist, and it came off the way a screenwriter might have scripted it: from early jitters, to gathering confidence before an enthusiastic and warmly supportive crowd of about 250 fans, to final confirmation that a valuable new-but-old figure has arrived on the hard-rock scene.
It left Ward beaming and happily babbling. "It's a beautiful night," he said repeatedly.
More important than marking a personal milestone, the evening posed intriguing questions about what the future might hold for a very promising singer-songwriter-bandleader whose music is built on sturdy, familiar elements (albeit far more of Cream, the Who and Pink Floyd than of Black Sabbath) yet whose approach is full of anomalies for today's hard-rock world.
Ward's expressions of hope and outraged innocence contrast markedly with the prevailing darkness of '90s arena rock; it's not Pollyanna-ish, but born of hard experience.
Ward earned it during the early '80s, when he fought a climactic, nearly fatal battle with alcoholism, and again in the early '90s, when he had more rough personal sledding that sidetracked him for a time after the 1990 release of his first solo album, "Ward One: Along the Way."
Ward, 48, is a transplanted Englishman who has lived in Orange County for almost 15 years, most of them in Seal Beach. He arrives at his solo performing career well armed to do battle.
In addition to "Along the Way," which he plans to re-release, he has two new albums in the can–"When the Bough Breaks" will come out April 29 on Cleopatra Records, a Los Angeles-based independent label, and "Remembering" is scheduled to follow in September.
Ward's 70-minute set drew from all three–an unusual advantage for an emerging artist.
The striking, varied dynamics and structure of his material–ranging from driving rock to acoustic ballads, with some songs oscillating between the two–ensured that there would be no ruts.
Ward's stage persona also betokened good things. His jitters lasted all of about three minutes as he paced the stage with his eyes down, failing to reach out and connect as he sang the opening number, "Mobile Shooting Gallery." By its spontaneously riffing ending, though, Ward was stretching his voice and projecting outward.
Many years' worth of stored-up nervous energy had him pacing and shuffling about more than he needed to during the show–sometimes costing him the focus that can best be gained by standing still, fixing one's gaze and singing to the back row. But Ward benefited from the strong emotional content written into his material, which allowed for connections forged of far sturdier stuff than stagecraft alone.
He repeatedly showed a dramatic flair, and his expressive face mapped out feelings as he sang. One surprise was Ward's comic gift. Skittering about in a slope-shouldered posture, he was not altogether unlike a certain gnomish, bleaty-voiced fellow, nicknamed Ozzy. * * *
But rather than playing a heavy-metal gnome like his old band's singer, Ward, decked out in a tweed vest over a loose smock and billowing white pajama-like pants, resembled a village baker or blacksmith from the pages of "Great Expectations" or "Tom Jones.".
Ward led off with a sequence of hard-driving songs, supported by the marvelous, cowbell-syncopated drumming of Ronnie Ciago, who spent the show smiling like a kid unwrapping Christmas presents.
Ward, known for establishing, along with Led Zeppelin's John Bonham, the slog-and-tromp heaviness of heavy metal, occasionally sauntered over to a smaller kit, which he used to tap out accents and embellishments, including some jazzy fills in one double-drummer sequence. Playing standing, he added to the show's humor by circling around his drum kit, tapping at cymbals and skins like a mad professor poring over his test tubes.
Like Ciago, bassist Paul Ill added heaviness in a supple way; unlike Ciago, the tattooed, shaven-headed Ill was all fixed-jawed intensity. Keith Lynch and Spencer Sercombe formed a good, complementary guitar tandem–Lynch with wailing, Cream-era Clapton-like tones and harder metal-chug riffs, and Sercombe offering some nice, lyrical and economical leads that called to mind Pink Floyd's David Gilmour. * * *
Ward's innocence is his essence. On the ballads "Children Killing Children" and "That's Somebody's Heart," his litany-like lyrics were simple and innocent almost to the point of naivete. The tenderness in Ward's voice–a bit like Roger Daltrey in his quietest mode–and the pleading look on his face allowed him to pull it off.
In "That's Somebody's Heart," Ward fondly added all three of his Sabbath mates to the chorus' plaintive litany–"Don't step on Oz, friend, 'cause he's got a heart," he sang. Far from disowning his Sabbath past, Ward embraced it in a dramatic opening flourish that found a cellist sawing out famous Black Sabbath riffs before Ward's band arrived on stage, and he began his encore with "That's Alright," a ballad he originally sang in Black Sabbath. It carried an atypical (for Sabbath) message of comfort and warmth.
Will today's hard-rock kids sit still for tenderness–the way the mainly twenty- and thirty-something crowd did so raptly at Club 369? Or will they tune out Ward before they can get to numbers such as the concluding "Shine," an excellent, ambitiously constructed anthem that moves between biting self-examination and soaring affirmation–all delivered in a supple, confident voice?
It's nice to have some interesting questions to ponder as this intriguing, contradictory, newly arrived old-timer moves forward.
As for the verdict on his maiden solo voyage, Ward gave it himself in the ebullient chorus of his pre-encore closing number: "Reach out, reach out, reach out, whoa / This has to be your finest hour."
2 comments for this entry: