Posted on Oct.21, 1998 under Black Sabbath
To commemorate the first album released by the original lineup of Black Sabbath in twenty years, the band is on a short multi-city in store record signing tour. Bill Ward (shown here to the right sporting his new buzz cut) is along with Tony, Geezer, & Ozzy signing copies of Reunion. Here is a listing of the cities he is at (contact the record store in your local city for more info):
Oct. 19 – Virgin Megastore (Times Square), New York, N.Y. (midnight to 3 a.m.)
Oct. 20 – The Wall (Neshaminy Mall), Philadelphia, Pa. (4 to 8 p.m.)
Oct. 21 – Tower (Newbury Street), Boston, Mass. (4 to 8 p.m.)
Oct. 22 – Camelot (Mentor Mall), Cleveland, Ohio (4 to 8 p.m.)
Oct. 24 – Tower (Downtown), Chicago, Ill. (2 to 6 p.m.)
Oct. 25 – Tower (Sunset), Los Angeles, Calif. (7 to 10 p.m.)
Oct. 27 – Blockbuster (Plano), Irving, Texas (4 to 8 p.m.)
Oct. 28 – Musicland, Minneapolis, Minn. (5 to 8:30 p.m.)
If you are interested in purchasing a copy of the new Black Sabbath album, which is the first official live album by the original Black Sabbath, as well as the first new studio recordings by the original lineup in 20 years, you can click here to order it from CD-Now!
Bill is also scheduled to go out on tour with the guys in support of Reunion. The tour is going to start on December 31st, 1998 in Phoenix Arizona at the Bank One Ballpark. More tour dates will be added here once they are officially released by Black Sabbath.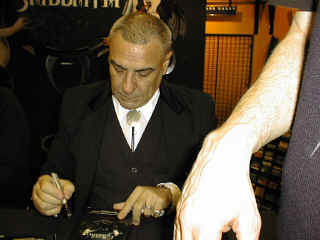 No comments for this entry yet...