Posted on Dec.07, 1998 under Bill Ward
Black Sabbath: This week (on the 8th) Bill will leave for England to begin rehearsals for the upcoming Black Sabbath US/Canadian tour in support of Reunion. The tour is scheduled for kick off on Dec 31st in Phoenix, Arizona. For a complete list of tour dates, check out Joe Siegler's Black Sabbath site. We hope to have some pictures and reports from a few dates on the show here, so make sure to check back later!
Bill Ward Solo: The art and everything for the re-print of When the Bough Breaks has been delivered to the record company. We hope that the reissue will be out early in the new year. Also, the reissue of Bill's first album, and the new third album "Remembering" are also hoped to be released sometime in 1999 as well, but there's no firm info on those. Bill does to continue on with his solo work too (as do the rest of the members of Sabbath). When is not known at this time.
This Web Site: Right now, this web site is undergoing a major overhaul. There is a new look slated to go online around the beginning of the new year to coincide with the re-release of When the Bough Breaks. Everything will have a new look to it, so make sure to keep your eyes here!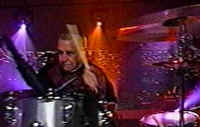 Bill (w/Sabbath) on the David Letterman Show – Oct 29, 1998
No comments for this entry yet...