Posted on Jan.21, 1999 under Bill Ward
If you read Modern Drummer magazine (or even if you don't), you might want to pick up a copy of their March 1999 issue. Bill will be appearing in this magazine, and talks about a vareity of things. We are not sure if Bill will be on the cover or not, however.
UPDATE: Bill did not have a cover picture, but he is listed on the cover. Check out this magazine – it's on stands now.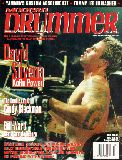 No comments for this entry yet...