Posted on Jun.29, 2005 under Bill Ward
UPDATE: Bill's diaries are available in iTunes now, you don't need these manual instructions anymore. To see the automated instructions, see the bottom of this news story.
---
A recent trend in online audio publication is that of podcasting. Podcasting is where you subscribe to an rss feed like you would any other rss news feed. The difference with a podcast feed is that it will pull down media – in this case Bill's audio diaries!
It's called podcasting, as it originted with the Apple iPod. You don't need an iPod to make use of this, however. What's cool about podcasting is that you don't have to seek out Bill's site to get the diaries, they'll be automatically delivered to whatever you're using as your software. It's all very cool, and all very automatic.
First off, if you're already doing podcasting, then this is the link you will want – it's the feed for Bill's Diary Podcast:
https://www.billward.com/diarypodcast.xml
iTunes Update!
On Tuesday, Jun 28th Apple Computer released a new version of their music store/player software, iTunes. This new version has built in support for Podcasting. This means that you can now listen to Bill's audio diaries in iTunes v4.9! As of right now, Bill's diary isn't listed in their online database of Podcasts, but that doesn't have to stop you from checking it out there.
You can add it manually until such a time that Bill's Diary Podcast shows up in iTunes. Anyway, The steps to add it manually are pretty simple, and we've included a couple of screen captures to make it easier for you.
Step 1: First, you need to go to the new podcast icon in iTunes (v4.9+)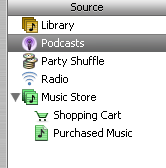 Step 2: Once there, you select the "Advanced" menu option at the top of the screen. Then select "Subscribe to podcast".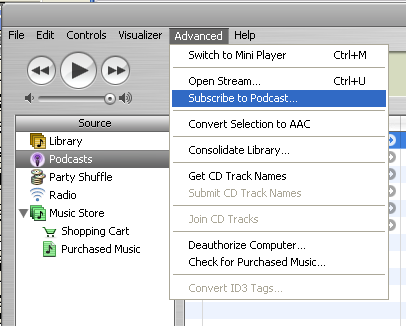 Step 3: You'll then see the screen below where you can manually enter the URL for the rss feed for a podcast. You'll need to enter Bill's Podcast info here: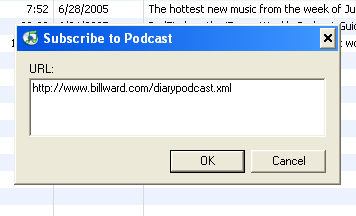 And that's it! You're subscribed. You'll get new editions of the diaries as they're released, based on the update schedule you choose for yourself in your local copy of iTunes.
If you don't have iTunes, or need to upgrade to v4.9 with Podcasting support, visit Apple's iTunes download page now, and grab your free copy of iTunes.
If you want to read more on podcasting, check out this link. this link, and this link These are some good explanations of podcasting, and how to get involved.
---
Update: You can now get Bill's podcast in the iTunes Music store without the need of these manual instructions. All you need to do is go to the iTunes store, select the "Podcast" section, and search for Bill Ward. You'll see something similar below. Click the subscribe button, and you're all done!
No comments for this entry yet...