Posted on Apr.23, 2015 under Bill Ward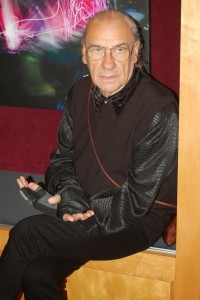 Today an excellent new interview with Bill Ward was published today by noted independent music writer and author Joel Gausten.  In this interview, Joel talks to Bill about what is going on now with his various solo projects (Accountable Beasts, unannounced second band), not to mention his own health.
You can read the full interview at Joel's website, but here are a few samples for you to read now.
"My [current] activity levels are very high; they have to be," offers Ward, who says that he's now drumming four to six hours a day. "Because I did have something of a busted-up wing, if you like, I've really worked hard on that. But I'm playing at full capacity. By May of last year, I was definitely in shape to be able to play for sustaining amounts of time."
Ward's time behind the kit these days is divided between his long-running Bill Ward Band (BWB) and a second, yet-to-be announced project (currently a trio) with guitarist Joe Amodea (who is the six-stringer featured in the much-discussed Instagram video made public last week). BWB is the group behind the soon-to-be-released Accountable Beasts, Ward's first solo album in 18 years. In addition to longtime BWB members Keith Lynch (guitar, keyboards), Paul Ill (bass) and Ronnie Ciago (drums), the album will feature contributions by drummer Walter Earl and an array of session singers including Ward's daughter, Emily. Ward's drumming will be heard on seven of the album's nine tracks.
No comments for this entry yet...